EVE.calls today
Eve.calls is the first tech company that invented a human-like voice bot for business. It combines all the latest advances in neural networks, speech recognition, and natural language processing, buttressed by strong expertise in voice marketing. As a result, more than 95% of respondents have no idea they are speaking with a bot.
The company made its first profit back in 2016. Revenue for the year 2020 totaled $1 million, and the number of loyal customers exceeded 86. Among those are: British American Tobacco, Ukrsibbank (BNP Paribas Group), Uber, SEAT, Oriflame, etc.
Oleksii Skripka, the founder and CEO of EVE.calls, told how he got the idea of a unique voice bot that has won the love of international business.
The beginning of my IT-journey
I seem to have always been interested in IT, which has led me to study cybernetics at my hometown economics institute. Education gave me a strong basis for my professional development and brought a lot of bright specialists into my life, who were really passionate about their work. Among them happened to be Alexander Zelensky, the father of the Ukrainian President.
In my final year of bachelor's studies, I felt it was time to gain some practical experience, so I took a job at a small local startup building CRM systems for business. This was a great move to get some relevant skills and learn how a modern tech company works. Meanwhile, at the university, I often got an "A" without even taking the test, as professors saw my knowledge turned out to be deeper and more relevant than the academic program required.
Moving to the capital and learning about business
A thirst for knowledge and new opportunities brought me to Kyiv, where I started working at one of the largest IT companies in Ukraine, Genesis Technology Partners. I was one of the developers for Flirchi.ru dating site, which was a unique experience of developing high-load projects handling over 60 million users.
At the same time, I delved into studying entrepreneurship. I saw clearly that business isn't something you should do in a rough-and-ready style, there is a science to it. I needed to understand how to create a unique product from scratch and make it profitable.
It was crucial to get first-hand knowledge from entrepreneurs who can share some real and successful experiences. We didn't have suitable communication platforms for this at that time, so in 2012 I started organizing business training on my own. I invited top-notch business coaches and entrepreneurs from all over the world and managed to hold over five events in a year. This was my first business, and it was very profitable by the way. At that time there weren't too many opportunities to get this level of knowledge, so the demand was huge.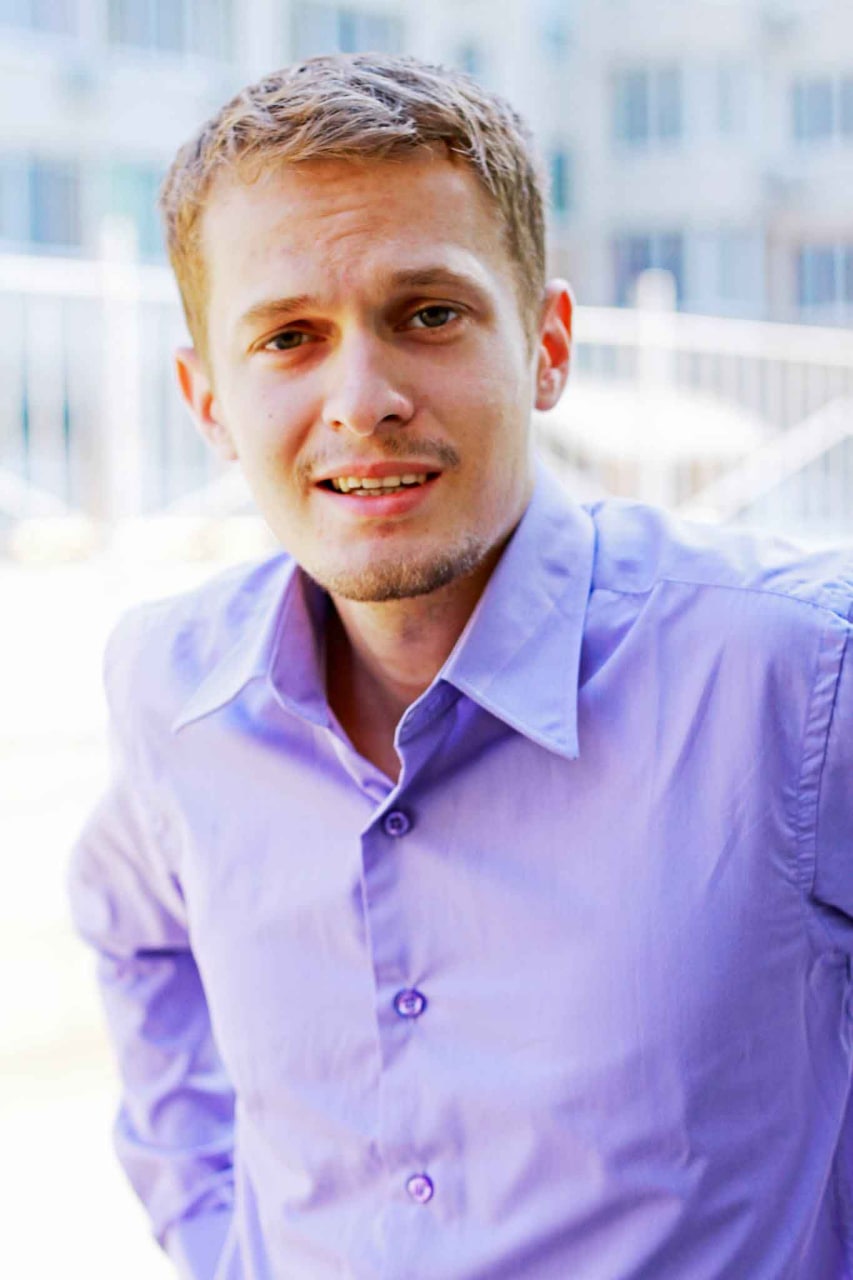 Business trainings life stage
My first startups
My first IT startup was a web studio, where I created eye-catching websites for bright personalities and built sophisticated CRM systems for companies. Then I launched "1 site 1 hour" – a service that offered small businesses an opportunity to quickly create a website using the original website builder. As we all know programmers tend to miss deadlines and increase costs along the line. We however guaranteed fixed terms and prices, and the client quickly received a medium-quality site totally ready to run.
Another brainchild that later became a starting point for EVE was «CleverWIFI» technology for restaurants and cafés. Visitors were connected to free wifi by connecting their social accounts. This way restaurants could learn more about their guests, grow their loyalty programs, and engage customers via social networks.
At some point, I partnered with a company providing service for online heliport design and construction. Then, with a partner from Minsk we launched CabWay - a cab service in Belarus that allows you to get a taxi in one click. The service enjoyed massive public support; we even got an investment for the app via a crowdfunding campaign. I pulled out of the project but it still exists.
EVE's story - from chatbot to voice assistant
The «CleverWIFI» technology I worked on in 2015 successfully helped cafes and restaurants collect customer contacts. But then a new issue came up: businesses had to communicate with customers through new channels. This has proven difficult as they notably lacked trained employees. So as part of that project, I created a chatbot that contacted customers on VKontakte social network on behalf of the restaurant manager to collect feedback.
Blocking access to VKontakte in 2016 pushed me to completely restructure the business model. First, I decided to stop hinging on a particular social network. Second, we decided to abandon text-based communication channels, as we saw that most people prefer a telephone conversation to correspondence since you can resolve all the questions many times faster that way. At the same time, we had to create something different from autoinformers which we're all sick of. We wanted a robot to carbon-copy the way humans interact with each other so that people would not even suspect they are speaking with a robot.
Eventually, after three months of binge-working, I created Eve - a voice assistant for business, which I later patented.
The name for the robot wasn't random. It is a reference to the biblical Eve, who was created as Adam's helper and companion. We want our Eve to help and support businesses in the same manner. Eve works with speech - one of the main products of a human conscious thought. Due to this, business results can be improved without losing high-touch customer service which is like gold dust in our digital age.
The part where Eve wins trust and loyalty
The product turned out to be too innovative, so at first many were skeptical and couldn't see its full potential. Everything changed after the prestigious Seedstars Startup Competition in 2017, where EVE.calls was the winner for central and eastern Europe. In 2018 our company reached the finals of the international Seedstars World Competition in Switzerland, where we were among the top-five participants from 82 countries and won the Audience Award. At that point, EVE.calls finally convinced the market, including Ukraine's largest companies, that our voice robot offers unique opportunities for business.
Since 2016 EVE.calls has been profitable and scaling without any venture capital. Today we continue winning over companies all over the world and increasing the number of partners. More than 700 clients have already benefited from our service, and the number of loyal clients has surpassed 80 by the end of 2021. Among our partners are big names in the banking sector (UKRSIBBANK BNP Paribas Group, KredoBank, IdeaBank), insurance (ARX, "TAS"), online marketplaces (OLX Group), and many others.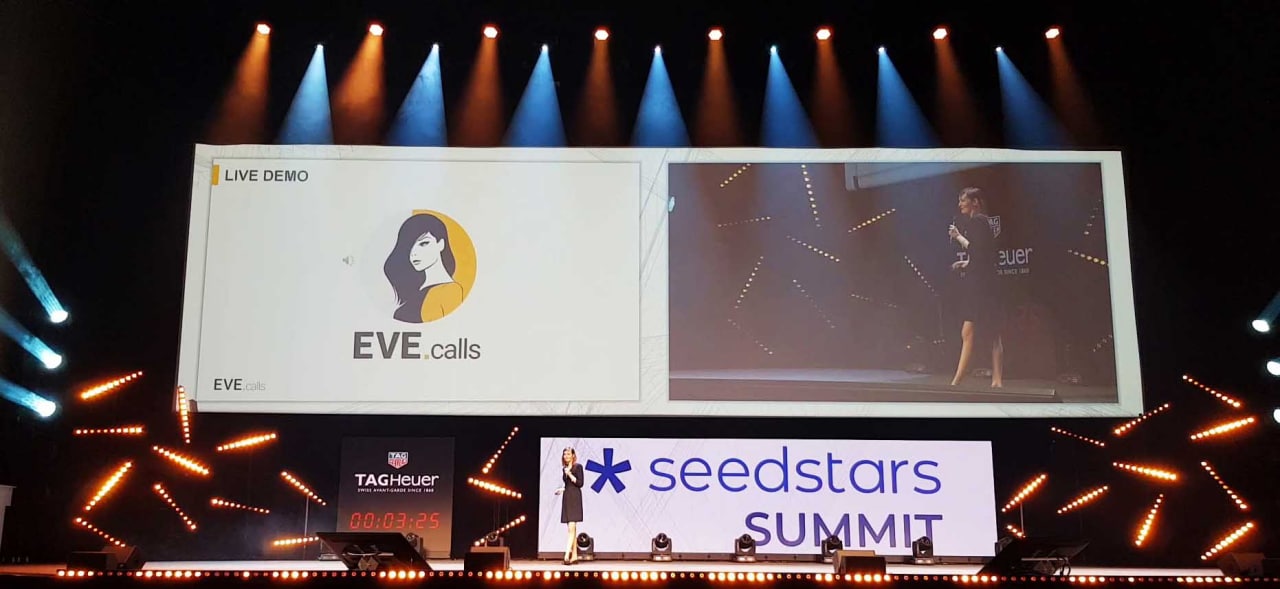 Presenting EVE.calls on Seedstars summit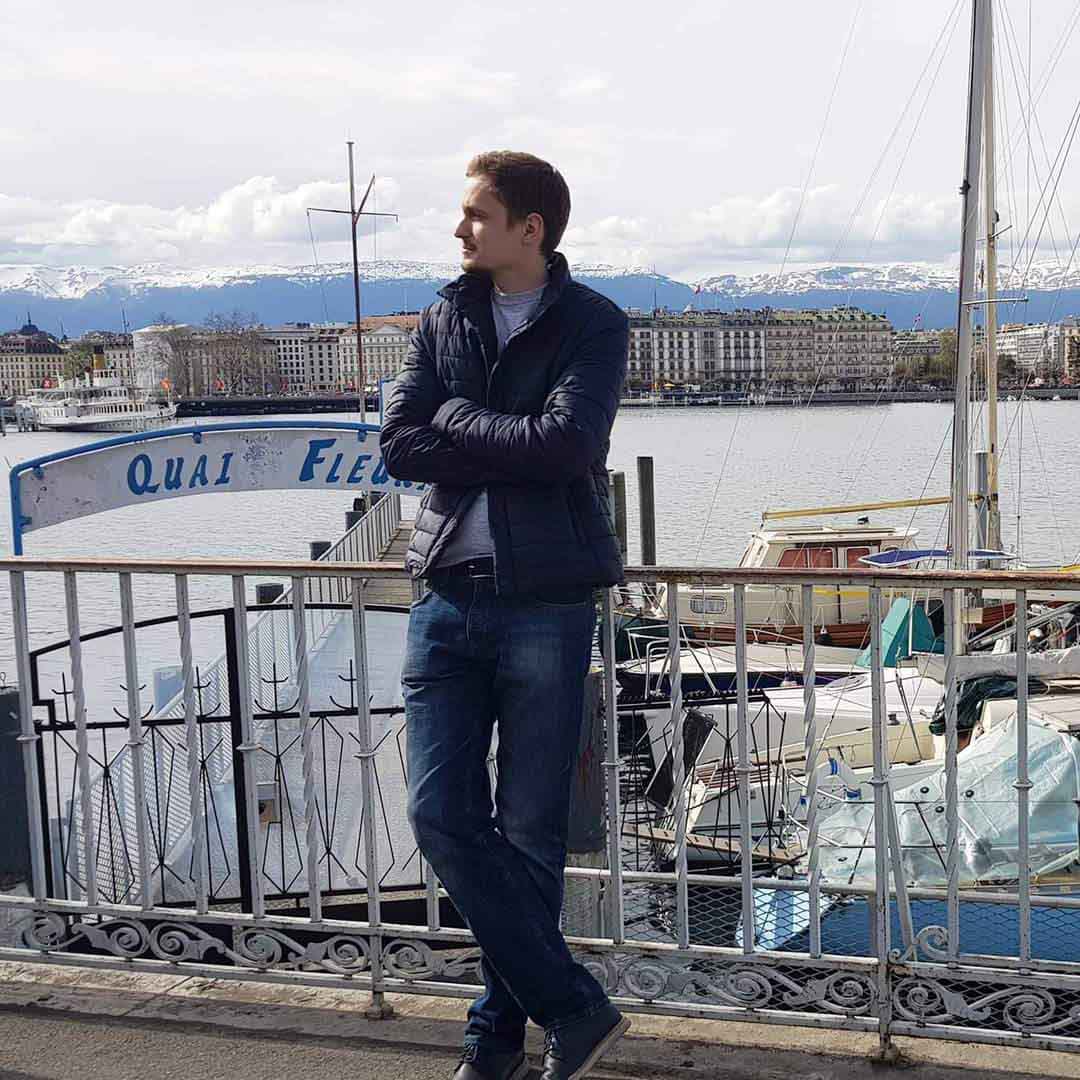 Visiting Switzerland for Seedstars Word 2018
Plans and Goals
We are determined to further integrate with large companies and CRM systems and highly motivated to conquer global markets.
The product itself is going to get better and better. We want to develop Eve into a self-learning robot conceiving the meaning and context of a conversation. In the long run, we hope to create a powerful artificial intelligence that can understand human emotions and feel empathy. This will completely up-end customer service standards on a global scale.
"My story shows that a committed person driven by a dream can achieve literally anything, especially being supported by his friends and team."
Oleksii Skrypka