About the company
A New York-based financial services company that EVE.Calls recently collaborated with provides up to $10 million in funding for businesses at all stages, including early-stage startups and established companies.
With more than 13 years of experience behind its back, the firm finances businesses in over 100 industries and offers access to working capital at competitive interest rates. Furthermore, the financial services company provides advisory services on decisions pertaining to capital structure, investments, and revenue models.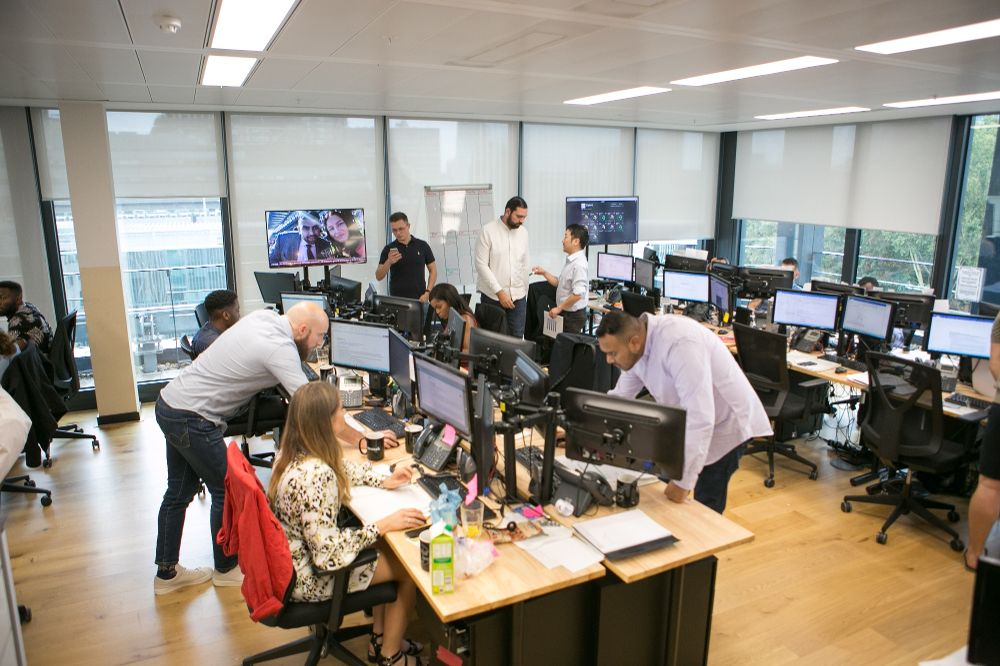 Problem
The financial services company approached EVE.Calls with an interest in focusing on two main areas: communicating with 1120 businesses actively seeking funding, and upselling new services to an existing customer base of approximately 50,000 entrepreneurs. To achieve these objectives, the existing strategy of the financial services company involved maintaining a call center with 24 agents.
However, using a call center to contact an existing customer base presented a significant challenge to the company. The agents were only capable of making up to 215 call attempts per day, and some calls were terminated due to customers being busy, resulting in around 50 to 60 productive conversations per day. Therefore, the financial services company was on the lookout for an AI-powered automation solution to assist with offloading the call center and streamlining phone calls in order to increase the daily volume of outreach to customers.
Furthermore, the company strived to recognize the most accomplished employees by identifying the unique qualities that distinguished them from their peers. Subsequently, their achievements were emphasized to serve as a role model for the overall working environment.
Solution
To increase the efficiency of the existing call center, EVE.Calls customized its existing AI-powered voice assistant that performed 4 to 5 thousand calls a day, a benchmark that was agreed upon with the financial services company in the negotiation stage. The process of creating a script was thorough and involved analyzing approximately 150 previously recorded phone calls with customers. The insights derived from this analysis were subsequently used to develop a decision tree consisting of 25 replicas, which were then utilized in communications with customers. Furthermore, the voice assistant was designed to identify the emotional tone and connotation of the vocabulary employed in responses given by customers and communicate accordingly.
EVE.Calls initiated conversations with past customers by inquiring about the progress of their business and specifying whether they were open to exploring opportunities for the next stages of financing:
EVE.Calls: I'm calling to follow up regarding your previous inquiry for additional financing for the company. Are you ready to discuss the opportunity to fund your business today?
If the clients expressed interest in receiving financial resources from the firm, EVE.Calls redirected them to the human advisors 'on-the-fly':
EVE.Calls: OK, great! Please hold on while I transfer you over to an account manager to discuss your file, OK?
The human advisors, who were highly trained professionals with extensive knowledge and expertise in financial matters, would then carefully assess the client's needs and provide them with personalized recommendations and guidance to help them make informed decisions regarding their financial goals and objectives.
EVE.Calls enhanced the operational efficiency of the call center by passing information from the previous communication with the client to human agents, including the description of their business and previous financing. The latter was achieved through the capability of the voice assistant to transcribe the audio recording of the phone call to a textual format in real-time.
Furthermore, EVE.Calls addressed the company's interest in identifying the best-performing employees by analyzing the conversation recordings performed over the past month. By identifying distinctive features in communication that led customers to proceed with financing, EVE.Calls was able to identify employees with exceptional performance and establish benchmarks for the sales team.
Results
Financial services company noted significant improvement in client conversion rates and operational efficiency. Moreover, EVE.Calls was able to contribute the following benefits:
Processed a database of more than 100,000 clients within a month, effectively qualifying the interested businesses at a pace that a physical call center could not encompass.
Resulted in a 3-fold increase in issued loans within the first month of implementation.
Enhanced the discipline and responsibility of employees through the introduction of benchmarks and analysis of their conversation recordings.



EVE.Calls had a positive impact on the given financial services company by streamlining its operations, optimizing sales effectiveness, and enhancing customer experiences. Its cutting-edge AI-powered technology has proven to be a catalyst for growth, enabling the financial services company to stay competitive in a rapidly changing market.